The Historic High Springs Opera House
Lorem ipsum dolor sit amet, consetetur sadipscing elitr, sed diam nonumy eirmod tempor invidunt ut labore et dolore magna aliquyam erat, sed diam voluptua. At vero eos et accusam et justo duo dolores et ea rebum. Stet clita kasd gubergren, no sea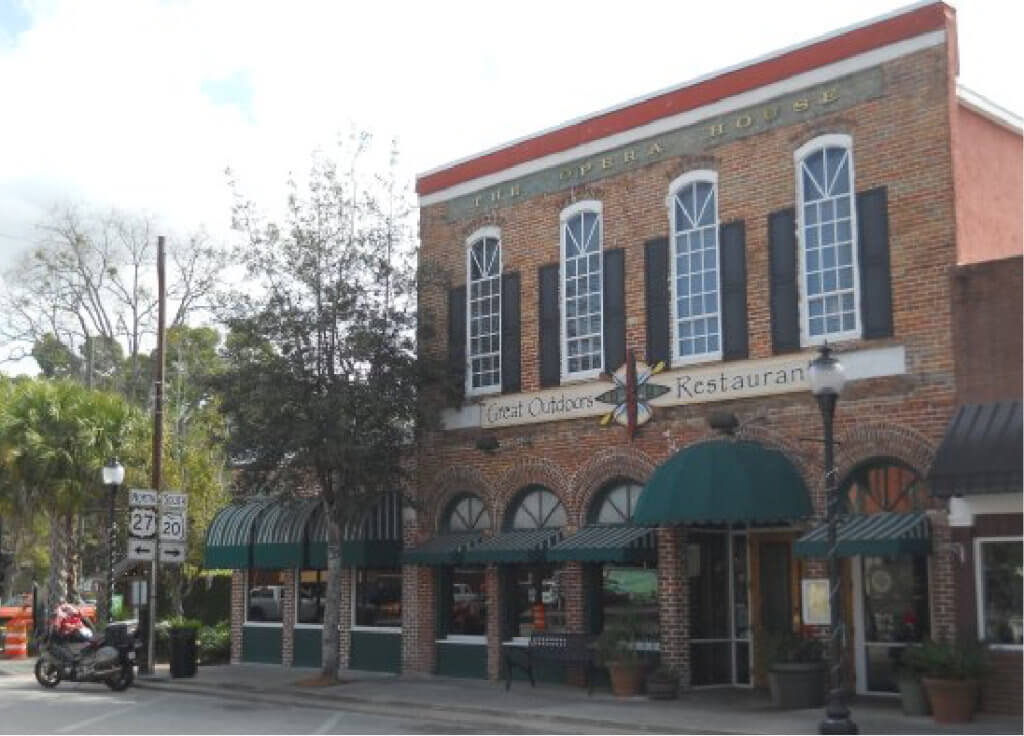 Henry Richardson purchased the High Springs property in 1891 and built the Opera House in 1895. The building was designed in the Romanesque Revival style of architecture. The current owners, Bob and Karen Bentz, spent more than two years restoring the entire building. The first floor of this historical opera house is home to the award winning Great Outdoors Restaurant, Springhouse Tavern, Outdoor Patio and River Bar, while the second floor is home to the Opera House Banquet and Conference Facility.
The Opera House was originally designed and built as a socially acceptable venue for entertainment in the then rowdy railroad town of High Springs in 1895. Back in the old days, the High Springs opera house played host to countless itinerant vaudeville performers. The second floor was used as an opera house, theater and social hall, and in the 1920's as a movie house.
In fact, the first silent movie, The Great Train Robbery was shown upstairs and was accompanied by piano and violin. Later, the building was used for shows and musicals. In the 1920's, a general store and barber shop occupied the first floor. The building went through a series of tenants over the next five decades, then finally closed its doors and remained vacant for over two years until the Bentz family purchased it in 2006.
The Opera House Banquet and Conference Facility in High Springs is now the perfect choice when planning your next meeting, conference, social event, or wedding in Central Florida. Our Meeting and special event space has something for everyone! Conveniently located in historic downtown High Springs midway between Gainesville and Lake City Florida, our meeting venues and event spaces bring history and nature together in an elegant setting. The Opera House offers ample room for a band and dancing, buffet or formal seating, or a presentation format with stage seating set up. The dropdown screen and state-of-the-art audio-visual system and amenities are perfect for any event.
Begin Planning Your Happily Ever After